| | | |
| --- | --- | --- |
| | Browse Our Store | |
Customer
Information
Welcome to Labellemodels.com

I will be gone from March 28 to April 28. All orders received during that time will be filled after my return.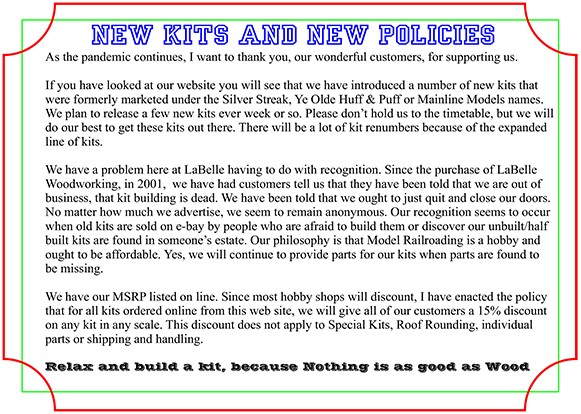 LaBelle Woodworking Company is one of the oldest companies still offering wooden model railroad kits. The Company dates back to 1947 and originated in Oconomowoc, Wisconsin. The first review of our passenger cars appeared in Model Railroader in January of 1960. LaBelle moved from Oconomowoc to Watertown to Fairchild, all in Wisconsin. The company was then moved to Pendleton, Indiana. We continue producing kits today in Cheyenne, Wyoming.




| | | |
| --- | --- | --- |
| | Store Search | |
| | | |
| --- | --- | --- |
| | Customer Extras | |